Innokin CoolFire Z50 Mod Only
Sorry: You have to be registered to see prices
Description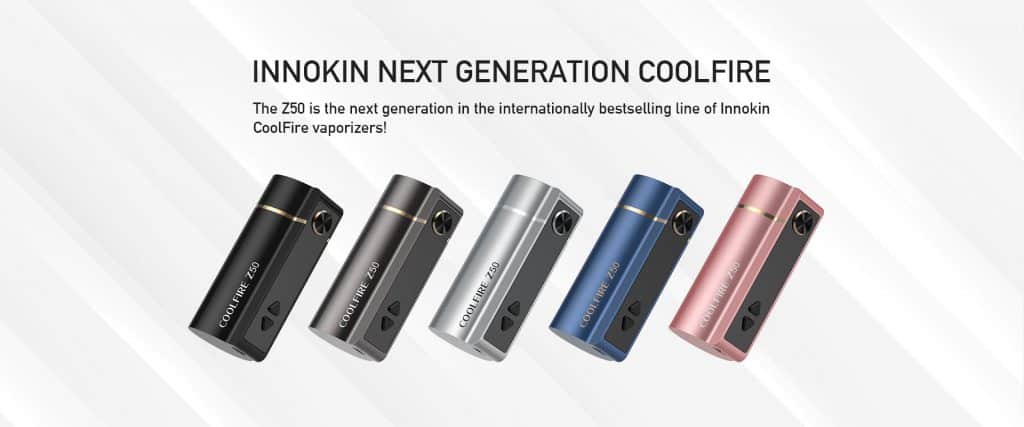 Innokin CoolFire Z50 Mod Only
Innokin latest pocket sized vaporiser, Its elegant, small, stylish and packs 50 watts of power. The device it self is simple in nature, easy to use and charge. It also features a small on/off switch at the bottom of the machine.
One massive pro with this great little machine is just how simple the Innokin CoolFire Z50 is to use. Switch it on press the buttons 3 times and its as simple as that. With no gimmicks and clocks to set just select your power and hit that fire button.
The Zlide tank, found in the full kit is also one of the easiest tanks to use on the market. To Fill it just pop out the drip tip, slide open the top and put your juice in one of the 2 holes. Changing the coil on the tank is simple to, whilst holding it upside down just unscrew the bottom ring, pop out the coil and insert your new one.
Lets talk about the battery: the z50 as a fairly decent sized battery, It is built in and has a capacity of 2100 mah. This should last you the day and maybe longer using higher resistance coils at around 11 watts. But do keep in mind the lower ohms coils and higher power settings could see this cut in half.
Whats In The Box:
Innokin Coolfire Z50 Device.
User Manual.
USB Charging Lead.
Innokin CoolFire Z50 Mod Specs:
Battery Size: 2100mah
Screen: OLED 0.69"
Wattage: 6.0~50 watts
Voltage: 3.0~7.7 volts
Cut Off: 15 Seconds
Max output: 20 Amp
Resistance: 0.2~3.5
Body Material: Zinc Alloy
Thread Type: 510
PLEASE NOTE THE TANK IS NOT INCLUDED, THIS IS THE MOD ONLY